How to find cheap flights.
5 Easy Tips
Tips and tricks to save money on your flight tickets
Like 99% of people, the first thing you will do when you start organising your trip is to buy your flight.
To get cheap flights, you should generally buy your flight as soon as possible. If you listen to the "experts" who recommend buying tickets 4 to 5 weeks before the flight date, there is no certainty that the prices will be lower, it depends on the airline, the flight, dates, if it is full, there are many factors to take into account which are unknown to us as users.
So if you have already decided where to go, when to go and the ticket price is not exorbitant, we recommend not waiting in case for a sale that might not happen. Prices rarely drop as the day approaches except for rare discounts when flights are not fully booked.
Also, if you want to know if you're overpaying for your flight, check out our extra tip at the end of the post.
If you want to know how to get even better prices, take a look at our tips.
Be as flexible as possible
When you don't have to take two weeks off in August, one for Christmas and one for Easter, an infinite range of possibilities opens up.
If you travel outside the holiday season, prices are much lower. Going to the Canary Islands for Christmas is not the same as going the second week of January or, for example, a weekend getaway does not cost the same as flying from Tuesday to Thursday.
If you have no way out, try to catch it as early as possible, the airlines know when the public holidays are in every country, so the prices will not go down.
Flying at 6 a.m.? No problem.
Flying in the early hours is significantly cheaper than flying at 10 am and you will get more out of the day at your destination.
When getting up early is not your passion, we understand, flying in the afternoon/evening is also cheaper, even if you arrive in the evening and can't do much more, you can make the most of the next day from early in the morning.
Our favourite website for finding flights is Skyscanner, which has a very useful feature which is to be able to search by month for the cheapest day. A graph will show the cheapest days and you will be able to choose which day you want to fly at the best price.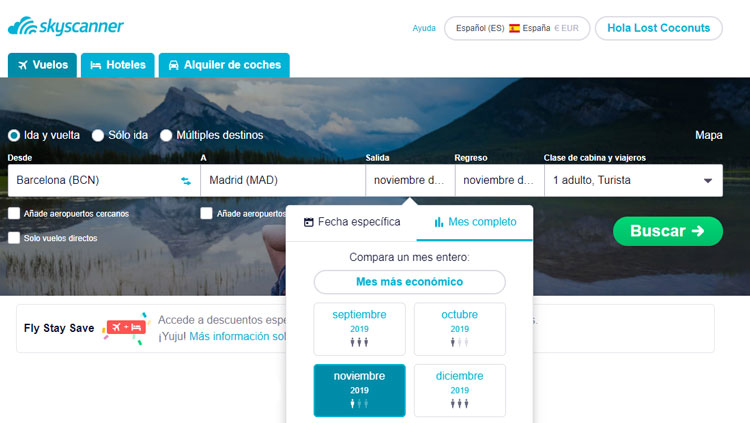 Be flexible with your destination
This is probably one of the tricks we like the most. When you don't have a specific destination in mind and don't care where to go, find the cheapest place to fly to and organise your trip from there.
The Skyscannersearch engine has the option to set the destination as Anywhere, so once you have entered the dates you want to go and your airport of origin, it shows you the destinations with the cheapest flights sorted by country.

Direct flight or with stopovers?
When you travel outside Europe, flying direct to your destination is usually more expensive. You don't have to transfer, take off, land again, the chances of getting your suitcase lost are less when you fly direct. All advantages except the price.
If you want to save money, it is a good idea to check whether and by how much the price is reduced by making a stopover. It is not the same to do a 3-hour stopover for €5 less than for€200. If you're not in a hurry and it's worth it, don't think twice.
Furthermore, if the escale is long, you can visit another city during your holidays., lots of countries offer transit visas to the tourists who have next day connections, even some, such as Singapore, offer a free tourist bus service if the stopover is longer than 5 hours.
Most low cost airlines charge you if you want to check in luggage, even Ryanair charges if you want to take hand luggage on board. Our advice is to think carefully about what you will need for your trip, as we often fill our suitcases with stuff we end up not using.
When you have no choice but to check in your suitcase, the best option is always to buy it just when you book your ticket, if you do it later, either online or at the counter, the price will be higher.
When you search for flights on your computer or mobile phone, your searches are recorded on the websites or apps, and since they already know you are interested in those flights, they will raise the prices almost every time you look at them.
To avoid this there are several ways, the first is to use theincognito browser and delete your cookies every time you search, this way you make it more difficult for them to find you and you will see that the prices do not go up or do not go up as much.
Another technique we apply is to use a VPN, which is a software, completely legal, which makes search engines believe that you are logged in from another country. The reason why we do this is because depending from the country you are looking from, the prices change.
We are not sure if it is because of the country wealth or the amount of searches they receive from each country, but especially for intercontinental flights, prices can vary considerably.
We use Tunnelbear, mainly because it is free and easy to use. You enter where you want to connect from and do the search.
Although you won't always find cheaper flights 100% of the time, it's always worth keeping an eye out just in case.
Extra tip: How to find out if the flight is cheap or not
To make sure you're not overpaying when you buy a flight, the tool that works best for us is Google Flights.
It has a graph that shows in which price range is your flight, so you will know from which price is considered cheap, normal or expensive.
An example of a cheap flight would be this one for €10 from Cluj-Napoca to London, above €20 would be considered normal and above €110 would be expensive.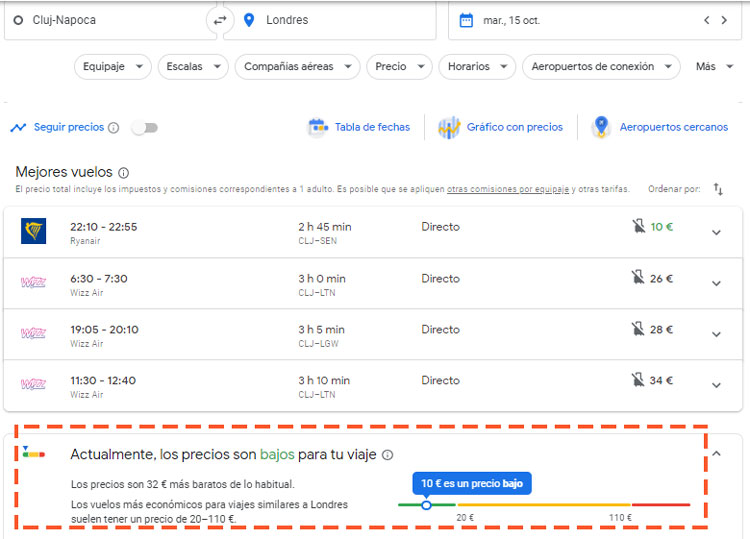 Nowadays, you can buy a plane ticket very easily which means that we often don't stop to think about other options, but the truth is that the sales advertised by one airline may be even more expensive than the normal price of another company, so it is worth that before you buy your ticket to take a look first at the search engines just in case there are other alternatives.
We hope you found our tips useful and that you use them in your next trip.
If you want to give us a personal recommendation, please leave us a message.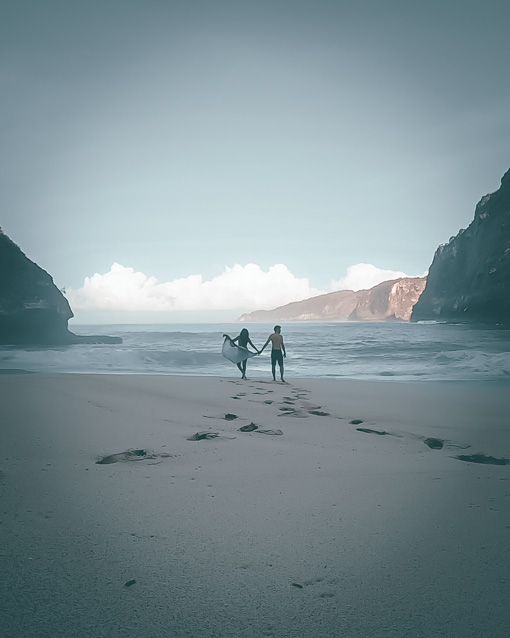 Hi! We are María & Toni, digital nomads and creators of Lost Coconuts.
On our blog we share travel guides, tips for digital nomads and free tutorials with everything we've learned so that you too can start your own digital projects. About us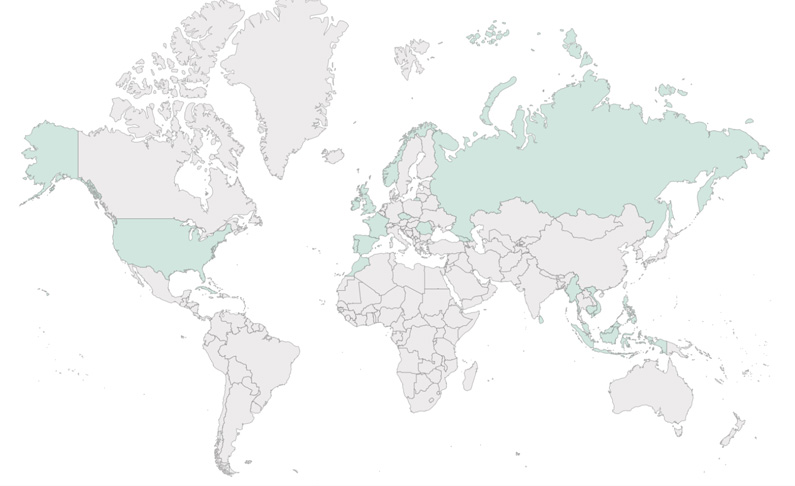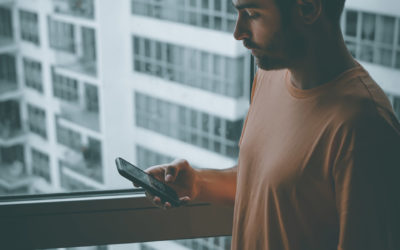 THE 14 BEST TRAVEL APPS THAT YOU CAN'T LEAVE WITHOUTThe best apps for travellersNo matter how well you plan your trip, something unexpected will always come up. How to get somewhere, where to eat, communicate in a language you don't know, connect to the nearest wifi....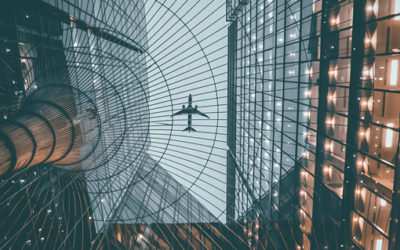 Jet Lag.5 tips for leaving it at home when you travelHow can we avoid jet lag?Jet lag is one of the most feared inconveniences when travelling and although it is a normal thing, it is always a pain. This is basically due to the fact that our biological clock is out of...