How to get your first online job on Upwork
Work remotely using Upwork
Working remotely is becoming easier every day, many companies have already realised that they do not need an office to keep track of their employees and are opening their minds to hiring remote workers.
The best thing about this is the freedomit offers, not only to work from wherever you want but also to get salaries from higher-paying countries.
In this post we are going to explain how you can also achieve it using Upwork.
Upwork, like many other online job sites, is a platform that connects workers and companies. Something like Infojobs, but especially focused on remote jobs. On Upwork, in addition to your CV, companies can check out reviews of past jobs you have done and you can also check out the reviews of companies, similar to Airbnb but with companies and workers.
What jobs can you get on Upwork?
You can really get almost any kind of work you can do from a laptop: translation, marketing, graphic design, development, virtual assistants, ecommerce, data entry and a long list of others.
These are the main jobs, although you can find almost anything.
It is very simple to use and the platform is designed in such a way that both job search and communication between employees and the company is very easy.
The steps to follow are:
Create your profile. Below we tell you how to do it step by step.
Search for job offers that interest you. Both by area of expertise or by the position you are looking for.
You send your application, just as you would traditionally send your CV, in the case of Upwork, you tell how much is your time worth, either by hour or by project. Companies can specify an approximate range for which they are going to hire someone, then you will see if you are interested in sending your application or if you need to look for another job.
Opposite to traditional advertisements where they say, salary according to experience, or competitive salary, here you can see what they are willing to pay or what they have paid other employees in the past.
If you are successful and get the job, you do what you have to do, it can be a project of a few hours, or work for months, years, here it depends on the characteristics of each job and what you negotiate with the company.
The company pays Upwork, Upwork takes its fees (see below for how much) and Upwork sends the payment securely to your account.
As in everything else, you will earn what you are worth. Think that now you are not only competing with people from your city who want that position, you are now competing with people from all over the world.
In many parts of the world, 5 dollars an hour is a good wage for a comfortable living, but in Europe it does not go far enough.
Don't let all this put you off, once you've got your head in the game and got a bit of experience working remotely, it's much easier to work your way up the pay scale.
What if I don't speak English?
The short answer is that you can find jobs in your mother language as there are plenty of jobs for all speakers, however, you will find it much easier to find jobs if you are fluent in English. You don't have to be Shakespeare, but a level that allows you to communicate is enough in most cases.
How to register on Upwork
To register you must go to the link, Upwork.com and click on Sign Up. Enter your email address, if you get a message that you are using a Gmail or Hotmail account, don't worry, you can continue as usual.

On the next screen you must enter your personal details, first name, surname, password and the country you are currently in or your country of birth. and click in work as freelancer.
Once you have confirmed your email address you can start creating your profile.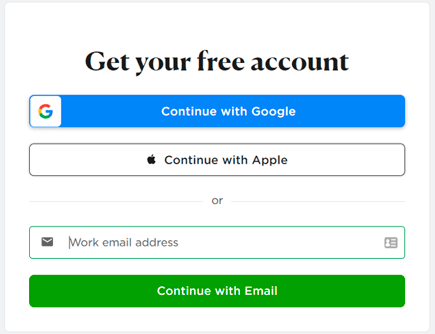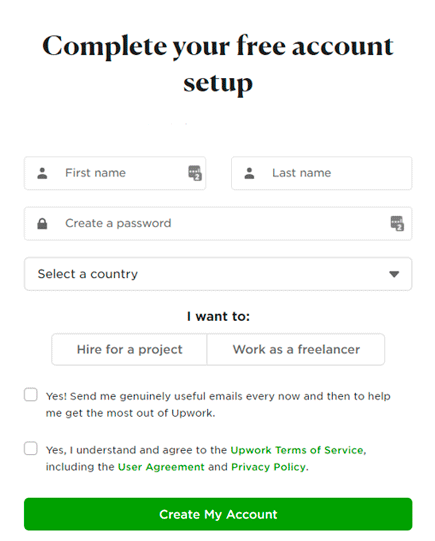 Due to the great success of Upwork, incomplete profiles or profiles with bad descriptions are not accepted and you will have to resubmit your profile for verification.
Our suggestion is to put as much information about yourself, past remote and non-remote jobs, skills, education, languages you speak and anything else you think is relevant.
A better profile is more likely to be accepted.
What to do once you register
The first time you will be tempted to apply for all the offers and start your online journey. Before you make the same mistake we did, keep in mind that Upwork has a currency called tokens, these tokens are like tokens at the fair, for each job application you send you will have to spend those tokens.
The free plan includes 60 tokens per month but if you need more you can always buy more, as of today each token is worth 0.15 dollars.
While this may seem like a problem, it actually makes people think twice when submitting their applications and the competition decreases.
How to increase your chances of getting your first job
From our personal experience using Upwork we can make the following recommendations.
-If you have little experience, try to reduce your hourly wage until you get your first jobs and evaluations in your profile. On Upwork, both workers and employers can view reviews of past jobs, as well as the salary they have paid.
Just do this temporarily And if they ask you why you have previously worked for X price and now you ask for more, you can say that you were just starting in the online world and you wanted to see how it works, but now, knowing what Upwork takes and your profile, for less than X you could not accept a new job.
– Try to look for offers once or twice a day to be the first to submit your application. Having been involved on the other side of Upwork (looking for remote workers), it's amazing how many applications we receive, so those who apply first have a better chance of at least getting their application read. For the same reason, if you see that an offer has been posted for days, it is best to wait for new ones to appear.
– Create a profile that stands out from the crowd, just like in other platforms. Apart from your application, they can also view your profile, past jobs, comments and it is well known that first impressions count for a lot.
If you are not good at highlighting your strengths, get others to do it for you. On Fiverr you can find people to do it for cheap.
-Although this also applies to offers for traditional positions, be wary of offers with poorly worded descriptions, companies that do not have a verified payment method or simply don't look good to you.
It is also important to look at how much companies have paid for previous jobs, this will give you an idea of the price range they are willing to pay.
How much does it cost to use Upwork?
You can use upwork for free or for a fee, for individuals the free version should be more than enough to start with, if you want to level up and apply for many more offers or hide your previous salaries, you can always end up paying.
Although it's free to use, once you've landed a job, this is where Upwork takes its profits.
Update 2023:
Upwork has updated its rates and now you pay 10% from the first dollar you earn.
20% from the first 500 US dollars you receive.
10% between $500.1 to $10000 and 5% thereafter.
Please note that this is per customer, if you do 3 jobs of $300, you will be charged 20% of each.
Where do you receive the money?
You can receive the money via payoneer, paypal or direct to your account. Just choose the method you prefer when you go to cash out.
Depending on the country where you live, you should become self-employed and declare your earnings to the state to be fully legal. From our blog we are not giving any legal advice, if you need more details, you should ask an expert.
Although Upwork is not currently asking you to provide your tax details, your country may eventually ask you to declare your income.
If you have any questions or need advice on how to get started on Upwork, send us a message and we will help you in any way we can.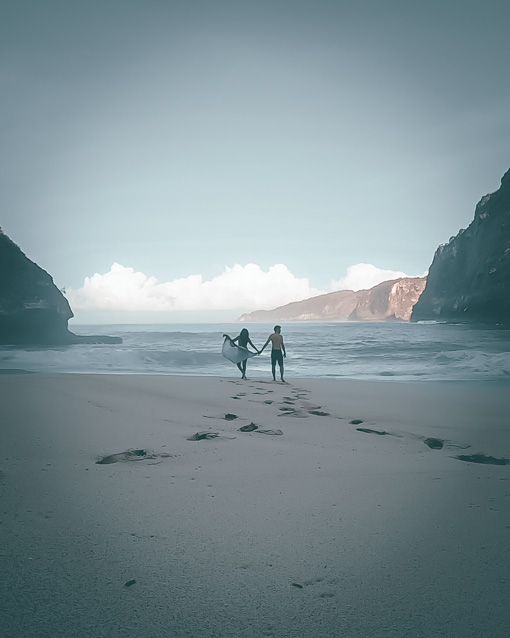 Hi! We are María & Toni, digital nomads and creators of Lost Coconuts.
On our blog we share travel guides, tips for digital nomads and free tutorials with everything we've learned so that you too can start your own digital projects. About us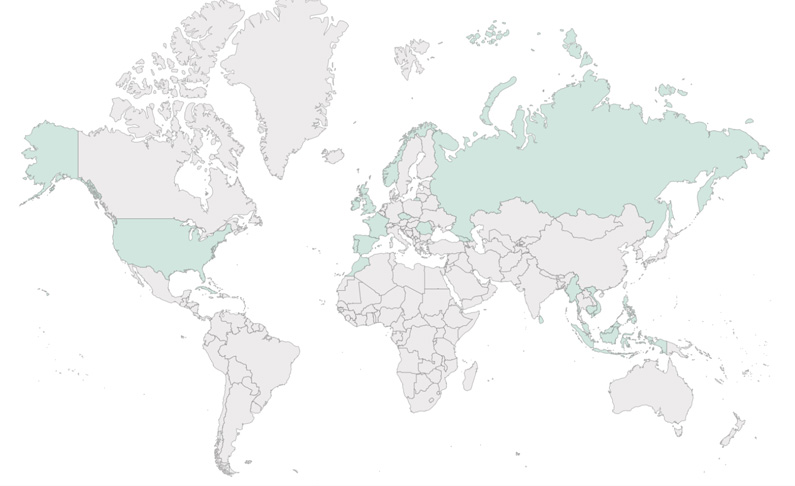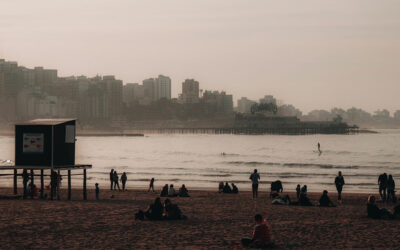 HOW TO MEET NEW PEOPLE AND MAKE FRIENDS AS A DIGITAL NOMADHow to find communities and connections while living a nomadic lifestyleEvery digital nomad knows that making long-lasting relationships and connections can be tricky while you travel the world and move from...